Online, 3-4-5 Settembre 2020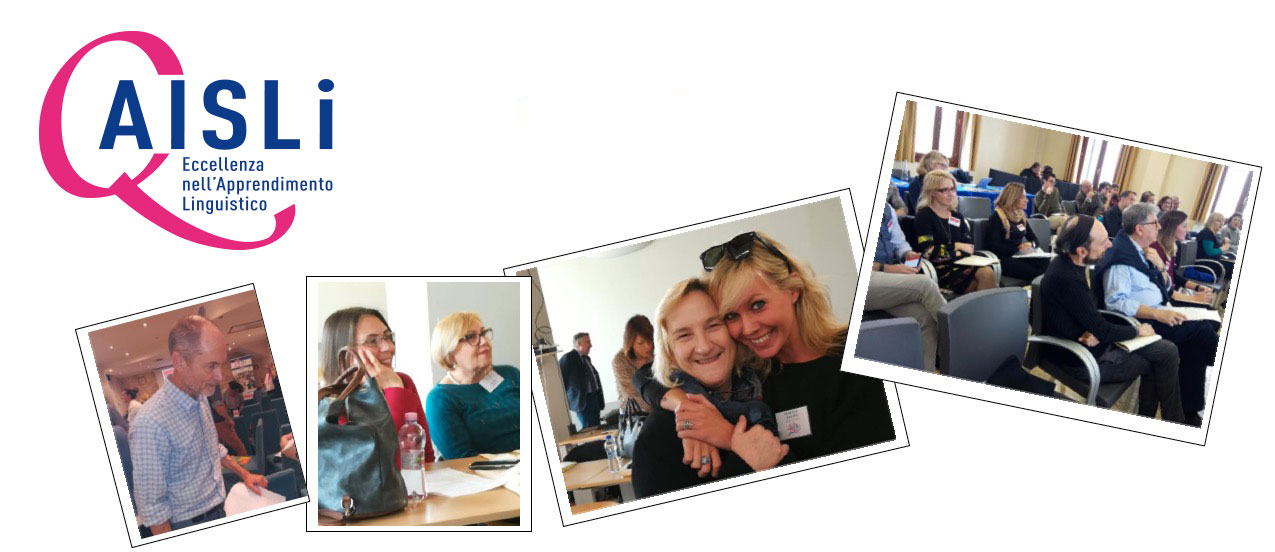 AISLi would like to thank Eaquals, our main sponsor, and all the other companies that have kindly agreed to sponsor speakers for the online event;

Eaquals: Ludka Kotarska - www.eaquals.org
Macmillan Education: Chia Suan Chong and the Friday Evening Musical Quiz night - https://www.macmillanenglish.com/it/
Cambridge Assessment English: Joanna Paolinelli - https://www.cambridgeenglish.org/
LanguageCert: Marek Kiczkowiak - https://www.languagecert.org/
Nile: Claudia Ferradas - https://www.nile-elt.com/
TransformELT: Alan MacKenzie - https://transformelt.com/
IATEFL IP & SEN SIG: Giovanni Licata - https://ipsen.iatefl.org/
ELT Training Library: Martyn Clarke - www.elttraininglibrary.com

----------------------------------------------------------------------------------------------
THURSDAY 3rd SEPTEMBER
13.45 – 14.00
Welcome
AISLi President
House keeping: Julie Wallis

14.00 – 14.45
Plenary (1): The foreign language text as meeting space: dealing with diversity through literature
Claudia Ferradas

15.00 – 15.45
Plenary (2): Collaborative Management for Divergent Futures
Alan MacKenzie

15.45 - 16.10: Coffee Break

16.00 – 17.00
Workshop (1)
Claudia Ferradas

16.00 – 17.00
Workshop (2)*
Alan MacKenzie

18.00 – 19.00
Cocktails, De-stress and Mindfulness Bianca Peel

----------------------------------------------------------------------------------------------
FRIDAY 4th SEPTEMBER
9.30 – 10.15
Plenary (3): Supporting Teacher Well-being: 'Getting by with a little help from my friends"
Martyn Clarke
10.30 – 11.15
Plenary (4): How to make your school a place of welcome
Giovanni Licata
11.15 – 11.30:
Coffee Break
11.30 – 12.30
Workshop (3)
Martyn Clarke
11.30 – 12.30
Workshop (4)*
Giovanni Licata
12.30 – 14.00:
Lunch Break
14.00 14.45
Plenary (5): An Inclusive journey toward Successful Accreditation
Ludka Kotarska
15.00 – 15.45
Plenary (6): Native Speakers are better Teachers: debunking the myth
Marek Kiczkowiak
15.45 – 16.00:
Coffee Break
16.00 – 17.00
Workshop (5)
Ludka Kotarska
16.00 – 17.00
Workshop (6)*
Marek Kiczkowiak
18.00 – 19.30
Musical Quiz Joanna Paolinellis


----------------------------------------------------------------------------------------------
SATURDAY 5th SEPTEMBER
10.00 – 11.00
Closing Plenary: Considering Wellbeing in the Classroom
Chia Suan Chong

11.00 – 11.15 Coffee Break

11.00 – 12.15
Show and Tell - Sharing Best Practice
All attendees

12.15 – 12.30
Feedback / Close
Julie Wallis
----------------------------------------------------------------------------------------------
MEET THE SPEAKERS

The foreign language text as meeting space: dealing with diversity through literature
Claudia Ferradas, PhD

Biodata: Claudia Ferradas has extensive international experience as a conference presenter, teacher educator and materials writer. She holds an MA in Education and Professional Development from the University of East Anglia and a PhD in English Studies from the University of Nottingham. She is based in Buenos Aires, Argentina, where she has taught language and literature for many years, both in translation and teacher training programmes. She is an Affiliate Trainer with NILE (Norwich Institute for Language Education), UK, where she teaches on professional development courses and on the MA in Professional Development for Language Education validated by the University of Chichester. She also teaches on the MA Programme in Contemporary Literatures in English at the National University of Cuyo, Mendoza, Argentina. She has taught on the MA in TEFL at the University of Alcalá de Henares, Spain.
She often works as a consultant and trainer for Oxford University Professional Development, the British Council and Trinity College London. She co-chaired the British Council Oxford Conference on the Teaching of Literature (Corpus Christi College) on five occasions.
Abstract: Whenever we read a creative text, we build the world a new, as it were, in our imagination. This construction involves procedural abilities to make sense of discourse, building a dialogue between the reader and the voices in the text - a dialogue which is unavoidably filtered by culture. Literary texts are a unique resource to empower students to develop a sense of identity in the process of foreign language acquisition, whose central aim is to face the challenge of expressing one world view through a language normally used to express a different one. The reading experience can also offer opportunities to come into contact with diversity and develop empathy.
In the opening plenary and the follow-up workshop we will explore the potential of literary texts in an ELT context, from oral narration, short poems and graded readers to canonical works. We will discuss activities to approach texts as spaces to encounter difference and encourage readers to respond by reflecting on their own fluid identities and our commonalities are humans.



Collaborative management for divergent futures
Alan MacKenzie

Biodata: Alan has been an English language teaching professional since 1989. Starting in language schools in Japan, he completed his MA TESOL with Teachers College Columbia University and moved into the tertiary sector. As Director of Programmes for the Japan Association for Language Teaching (JALT), he ran a series of very successful conferences and published three volumes of edited papers for the College and University Educators SIG: Content and Language Education: Looking at the Future, Developing Autonomy, and Curriculum Innovation, Evaluation and Testing. In 2004, he started working for the British Council in Thailand as an ELT project manager. After tours in India as a Senior Training Consultant and Pakistan, as architect and Director of the PEELI project, he became an Academic Director at NILE. Alan is now a Senior Consultant for NILE and Module Leader for Developing Autonomy on the MA in Professional Development for Language Education. He has been advisor to the boards of Thailand TESOL, Philippines Association for Language Teaching (PALT), Society of Pakistan English Language Teachers (SPELT) and English Language Teacher's Association of India (ELTI). He has also worked with multiple state ministries of education across East and South Asia. Alan is a member of Eaquals, IATEFL and BALEAP.

Abstract: We live in unpredictable times, and the only way we will be able to survive and thrive is to embrace diversity. Our teams have all the solutions we need. All we have to do is employ some simple practices to ensure that their voices are heard, their needs are taken into account, and that they are rewarded for their efforts. This presentation will discuss the most relevant management issues of our times and suggest strategies that any academic manager can employ with their teaching and student body. Implication for the classroom will also be discussed.


Native speakers are better teachers: debunking the myth
Marek Kiczkowiak

Biodata: Marek Kiczkowiak is the founder of TEFL Equity Advocates & Academy, where he helps English teachers tackle native speakerism, promote equality and teach English for global communication. He also works as a materials writer for National Geographic Learning and develops courses for Université Libre de Bruxelles. He has taught English in seven different countries and is a frequent conference speaker. He is also a passionate language learner and speaks six foreign languages. You can find him on Twitter @teflequity and @marekkiczkowiak https://teflequityadvocates.com/

Abstract: There is a persistent belief in ELT, an ideology if you will – often referred to as native speakerism, that 'native speakers' are better teachers. They are better because they have superior knowledge of the language. A wider vocabulary. Better pronunciation. They are more fluent. They are unique sources of cultural knowledge. Their teaching methodology is better.
And this belief has been sold and marketed around the world, leading to a situation where the vast majority of ELT jobs in the private sector around the world are for 'native speakers' only. A situation where practically any 'native speaker' with or without a 4 week TEFL certificate can travel the world teaching English. A situation where many students prefer 'native speakers', because they are constantly told to prefer them.
However, do these arguments about the superiority of 'native speaker' teachers hold any water in a world where English has become a global lingua franca? In this talk I will debunk some of these myths about 'native speakers', and argue that all teachers, whether 'native' or 'non-native', should be hired for their pedagogical skills and professionalism, rather than for a language their unwittingly picked up as children. To do so, I will refer to appropriate research and literature, as well as my own experience as an English teacher, teacher trainer and language learner.
I will end the talk by suggesting what each and every one of us involved in ELT can do to tackle native speakerism and to bring back professionalism and equality into our industry. The workshop to follow will look at how to maintain a thriving language academy by giving equal opportunities to non-native speaker teachers.

Workshop: Maintaining a thriving language academy by giving equal opportunities to non-native speaker teachers
Running a successful language academy can be a difficult task bearing in mind the fierce and growing competition, which makes high client satisfaction and academic achievement vital. As a result, directors might be worried that hiring 'non-native speaker' teachers will have a negative effect on both students' satisfaction and their language progress. This workshop will show, however, that an equal employment opportunities policy which focuses on recruiting the best candidate, regardless of their mother tongue or country of origin, can actually have the opposite effect, boosting students' satisfaction and language development, and thus helping the academy thrive.


An inclusive journey towards successful accreditation
Ludka Kotarska

Biodata: Ludka Kotarska has been involved in English language teaching and training for over 35 years and has worked as a teacher, academic manager and school director. From 1995 till 2014 she was the Managing Director of ELS-Bell schools in Poland. She has been active in EAQUALS for 20 years as an inspector, Chair of Inspections Sub-committee from 2001 to 2007, a special adviser from 2007 to 2010 and Eaquals Chair from 2010 to 2014. In May 2016 she was appointed Director of Eaquals Accreditation and Consultancy Services. She has conducted training sessions for Eaquals inspectors, has participated as a speaker in professional conferences and has been engaged in projects related to development of quality assurance schemes.

Plenary: Accreditation is a process not an isolated event limited to a- two-day inspection. It involves all staff and filters through to the classroom; it has an impact on the daily functioning of the institution. It is often perceived by staff as a stressful and labour intensive management's ambition. The challenge is not only in responding effectively to the standards and requirements of an accreditation scheme but to involve everyone in the process and make it an inclusive project which goes beyond mere participation. The challenge is to convert it into sustainable practice, a self-reflection exercise based on common understanding of its principles and shared values. The session will be based on the Eaquals Inspection Scheme and we will look at various stages of the accreditation process. We will explore the potential of institutional self-assessment as a goal-oriented process, a vehicle for improvement and a tool which facilitates accreditation both prior to an inspection and as its follow-up. The talk will focus – the quality standards for academic management: from institution's educational philosophy, the principles of course design and lesson planning to their implementation in the classroom.
Workshop: You are not one of the gang anymore. Changing your path – demystifying academic management
In language education academic managers are typically teachers who have been promoted to a new role and quite commonly recruited from within the language centre . What does transition from the classroom and the staff room to the office involve? Inevitably, it poses challenges at various levels from changing one's mindset and self-perception to acquisition of new skills and competences.
In this workshop we will explore the key principles of academic management and we will use the KASA framework (Freeman 1989): Knowledge, Skills, Attitude and Awareness to identify competences academic managers need to fulfil their roles. We will examine the areas of academic managers' activities which are essential to the quality and effectiveness of the language centre such as course design and student assessment, teacher support and development. We will also discuss other aspects of management i.e. delegation, communication, motivation, team building and leadership. The workshop will draw on participants' experience and on the quality standards as defined in AISLi, Eaquals and IH Inspection Schemes.

Supporting Teacher Well-being: 'Getting by with a little help from my friends"
Martyn Clarke

Biodata: Martyn Clarke has been an ELT professional for 30 years and in more than fifteen countries in UK, Europe, Central America and Africa. As a consultant teacher trainer and advisor he has experience in numerous education development projects around the world including both pre-service and in-service programmes. He has designed and taught on UK under- and post-graduate teacher development programmes for the universities in the UK and teacher/management development seminars and workshops across Europe and the Middle East, and written education development courses for Oxford University Press and British Council. He has managed a number of overseas education projects at local and national levels and was the Director of Operations for a group of language schools in the UK and Ireland, responsible for all academic, administrative, and HR functions of the organisation. He is an affiliate trainer for the Norwich Institute for Language Education (NILE) and the module leader for the MA course in Academic Management in Language Education.

Abstract: It's not easy being a teacher. Every day we need the skills of a hundred professions from police to planners, from doctors to diplomats. Like a much-loved pizza, everyone wants a slice of us – parents, managers, students, inspectors and even the government. And we are constantly in the spotlight. Our successes are public – but then, so are our failures. As I said, it's not an easy job. And now we find ourselves coping with even more challenges following the COVID-19 pandemic, including larger classes and wider ranges of ability. Now more than ever we need to make sure we look after ourselves. Who can we turn to? No one understands a teacher like a teacher, and no one can support a teacher like a teacher. In this webinar, I'd like to share three simple activities my teaching colleagues and I have used to support each other at difficult times. I hope they will be useful to you. In the highly practical workshop you will be designing your own activities to share with the group.

How to make your school a place of welcome
Giovanni Licata

Biodata: Giovanni Licata a has an MA in Applied Linguistics and has been Head of the Teacher Training Department at IH Rome for the last 3 years. He has been working as an English language teacher for fifteen years and has had the opportunity to teach all age groups and levels. His first teaching job was in a tiny language school in Rome where he was mainly teaching Business English in local companies. Years later, after CELTA and Delta, Since he started training pre-service and in-service EFL/ESL teachers he has explored different contexts and worked in Europe, Asia and the US. Over the years, he has developed an interest in sociolinguistics and the use of authentic text in the classroom. His dream is to open an Italian style wine bar in California and serve top-quality wine and bruschettas. He is currently on the committee of the IATEFL IP&SEN sig.

Plenary: School environments have progressively revealed themselves as less static and more diverse environments. Decision makers are called upon to deal with this change of perspective and find the answers to questions that are not always dealt with on teacher training courses and TEFL programs. What does it mean to be an inclusive school? What is inclusion in the first place? This talk will guide the audience through possible answers to these questions, and discuss why this is a pressing issue. When decision makers change their schools to make all student feel welcomed, we have taken the first step to make our society a more inclusive place.
In the workshop we will look at the implementation of practical ideas on how to make our schools more inclusive. We will discuss how we can change our schools to make them a welcoming place and suggest strategies we can easily adopt to get started. In the end, every participant should leave with ideas they can implement straight away and with strategies they can implement in the mid- and long-term, having a clear timeline of inclusion in mind.


Considering well-being in the classroom
Chia Suan Chong
Biodata: Chia Suan Chong is a writer, communication skills trainer and a teacher trainer. She is the author of Successful International Communication, and was English Teaching Professional's award-winning resident blogger between 2012 and 2019. Before she became a trainer, Chia spent two years doing meditation retreats and exploring the importance of self-awareness and self-reflection. Currently based in York, Chia regularly conducts training online via webinars and also provides corporate training on effective virtual communication and intercultural communication. Chia also writes regularly for the British Council's Learn English website and holds a DELTA and a Masters in Applied Linguistics and ELT.

Abstract: Faced with the pressures that 2020 brings, students might struggle to cope with the new challenges both in their personal and academic lives. This session looks at some practical ways teachers can help students to open up about the issues they're facing and motivate students to maintain their well-being as we navigate through these difficult times together.


----------------------------------------------------------------------------------------------
OUR PARTNERS